ARDBEGGEDDON

THE ANNUAL CLAN GATHERING OF THE PLOWED SOCIETY


The PLOWED Society is an informal group of single malt scotch whisky fanatics located across the US who are "proud to be PLOWED". We primarily met through the internet on the "official" PLOWED site that was located at www.single-malt.com, but hasn't been updated for several years and appears to be slowly disintegrating. Chaos GOOD! I particularly like the photo on the home page showing Ian Henderson raking malt at Springbank... it's a classic!
Here is a link to a description of PLOWED from dictionary.com that sheds a bit of light on the origin of this group (with minor edits/clarifications of course)...
In 2000 we decided that we had tortured each other enough with the malt treasures we had individually collected in our travels and determined it was time to actually meet in person. Fitting for such an austere group, our first annual clan gathering was held in Las Vegas in January 2000.
...it was awesome, breathtaking, and humbling all at the same time...
I decided to become the Maine Chapter PLOWED Representative following this gathering and my life has been basically "plowed" ever since...
Here are links to each of these annual debaucheries (the 2000 postings are gone and need to be rebuilt... I somehow nuked them while updating the site and overwrote the backup...)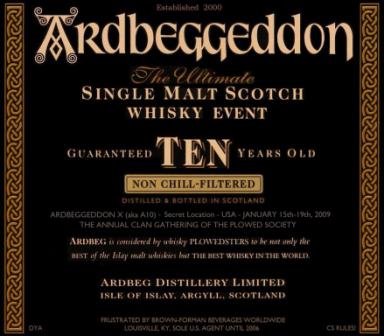 News Alert! - was able to download the entire old PLOWED Site at www.single-malt.com in early January 2009 and found that it still contained many of the older graphics no longer linked to the site. I've thrown up a quick webpage with the photos below for now. Seems kind of quaint and nostalgic in comparison to recent gatherings... A1 was held at the Hard Rock Casino and our rooms were scattered across the hotel. This was where the PLOWED practice of "Lipping the Local Barley" was established. We also have photos from the first PLOWED Pildrammage to Scotland from 2002 on this page.
Links to some of the "cutting edge creative output" from past PLOWED gatherings:

We're also starting to see "Ardbeggeddon" starting to be more widely used and showing up on other websites. Here's a few that are in German and a bit hard to read. Got to find that website translator and provide a review of these sites when we're immersed in the water of life during A10:
http://ardbeggeddonardbeg.blogspot.com/ - Looks like a blog by a Swede and her dog best I can tell. Titled "Active Canine's Ardbeggeddon Ardbeg"... hmmmm needs further investigation me thinks!
Link to high end Ardbeg tasting held earlier in 2008 on another German website/blog they also named Ardbeggeddon.

Home
last update on 02/05/2009