ARDBEGGEDDON V
THE ANNUAL CLAN GATHERING OF THE PLOWED SOCIETY
Las Vegas, Nevada
January 9 - 13, 2004
---
THE TIME OF LIVER PUNISHMENT IS AGAIN AT HAND
(Ref: The liver is evil and must be punished - FX)
The PLOWED Clan is gathering once and enroute to Las Vegas with MIRVs locked and loaded with a primo selection of the finest drams from our respective collections. (I'm creating this page on the flight to ORD accompanied by the Lord of of the ChelmsfORD Drammery - aka Loco Barley or Slur Dave of the Loco Barley who last night at about 3 am after a handful of excellent drams was convinced we were heading to ORDbeggeddon... I guess you had to be there but it made sense to me then and even still now. See the ORD's prayer for further insight into this particular thread of PLOWED lunacy)...
---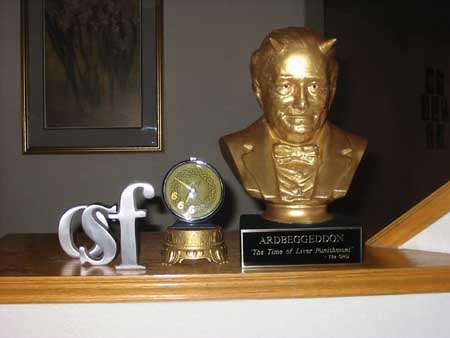 This is the altar created by FX, PLOWED's resident creative genius. Too bad I couldn't show the special lighting effects that FX incorporated. Too bad - you had to be there...
Note: a good deal of the content on this website was actually created by FX and Usigetom, with strong support from the assembled Ringleaders. I simply channel PLOWED. Someone has to do it
---
This year's gathering promises to be completely over the top. Instead of hosting the gathering in a casino and trying to squeeze 20-odd folks into a too-small hotel room we've rented a couple of 3,000 sf luxury houses where we can finally convene the annual clan gathering in a proper setting. We even have a high speed internet connection onsite which should greatly assist live postings from the front. as well as postings to the PLOWED discussion board where we mercilessly torture the absent Ringleaders each year. Other critical factors that promise to make this an astonishing gathering is that a handful of PLOWED Ringleaders in attendence turn 50 this year (I am one of these ancient but well preserved specimens) and we have several 1954 vintage birthday malts we're opening for the tasting as well as commitment from some of these "old-timers" to DYA once again. I've only achieved this feat once at A2 when I managed to consume 48 drams in an 18 hour period. I've been training to do it again for my 50th and most likely this will be my last attempt at this little exercise in PLOWED insanity (wait a minute - that's what I said in 2000! hmmmm).
---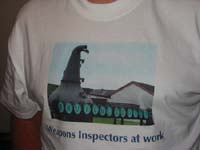 Todd's excellent "Weapons of Mass Drunkeness" Bruichladdich t-shirt - I need one of these!
---
The malt list is extraordinary this year with 284 declared malts when Alan closed the list on Wednesday. A mind-boggling selection of malt whiskies this year - many of which I've never sampled.
I'm going to try to compile my tasting notes in the excel file and if successful, will repost this edited list during and after the tasting. I'll also try to add as many of the "undeclared bottles" that I can identify during the 4-day clan gathering.
The count of PLOWED's traditionally favorite distilleries will be represented as follows:
Ardbeg - 27

Bowmore - 15

Brora - 11

Laphroaig - 9

Port Ellen - 7

Springbank - 30 (count includes Longrow, a 25yo Angus Dundee, and an undeclared Bond No. 3 that I threw into my bag at the last minute that I picked up in London in 2002.)
As you can see, we are still obsessed with Ardbeg and Springbank - not a BAD thing mind you!
---
Here's FoaF assessing the "pool table" malt whisky selection for his next dram.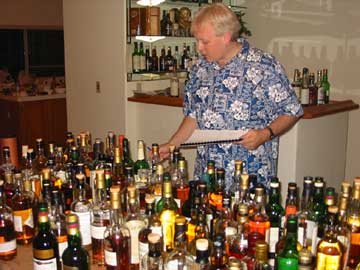 FoaF - the A/V PLOWED Ringleaders salute you!
The dramming villa was perfect and this Ardbeggeddon set a whole new set of ritual guidelines for future PLOWED gatherings (as recorded in the evolving Book of Ord, Chapter OSFX..)
My only regret is that I never got over to sample the cavalcade of dumpy sigs...
Thanks again! A/V Rocked!
---
I should be able to do a better job of keeping the site updated than I was able to do last year (never finished it since the dramming room to tiny last year and it was impossible to document the event from ground zero.) We'll see tho - I tend to get distracted easily when totally immersed in the water of life.
Post-tasting explanation: We were effectively "dark" for the entire A/V. I totally blew it by bringing the cord for my external hard drive instead of for my laptop. I created the framework for this page on the flight out and ran the battery down. Nobody else at the house had a computer so we couldn't even taunt the missing Ringleaders... so we taunted each other instead:
PLOWED - Having fun at YOUR expense!
Updates in progress!
---
Slainte - and pray for our livers! DrE
Thursday 1/8/04 - pre-trip drammage and preparation - no photos...
Friday 1/9/04 - Arrival in Las Vegas - Photos
Saturday 1/10/04 - First full day of debauchery - Photos
Sunday 1/11/04 - Second full day - no "formal tasting" this year - Photos
Monday 1/12/04 - Final day - wrapup...- Photos
Tuesday 1/13/04 - Back to the real world... another successful voyage across the water of life! - no photos...
Photo Dump by Day - ALL photos without any review: testing JAlbum freeware!
---
Last update on 1/24/04