Chaos, malt whisky, fractals, order and white noise...

Well, I'm back up and running and have just finished FINALLY posting the photos from A8 and A9. Getting the site ready for A10 and have found some excellent web photo posting software that I downloaded and installed around Christmas 2008.
...check this freeware out! This software has reduced the work needed to manage the photo pages here by probably 90% and is actually fun to use. All pros and no cons so far!

JANUARY 2010 UPDATE
The time of liver punishment is again upon us!
Ardbeggeddon XI - the 11th Annual PLOWED Society Clan Gathering

Sorry to report that I can't use my work laptop to update this website anymore since our IT department stripped off all the software I use and recently locked down the admin rights. And so it goes...
This year I don't get to promise to post from ground zero and then flake out as I normally do... Sorry to disappoint disappointing you this year.
Besides, there are WAY too many astonishingly tasty drams at Ardbeggeddon to try to properly record our annual 4-day whiskypalooza - how can any mortal possibly hope to document heaven on earth anyway? I should be ashamed...
...but I'm not because I'm PLOWED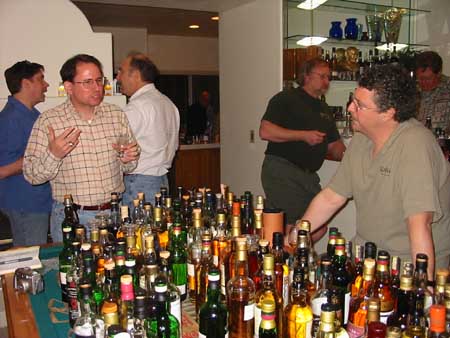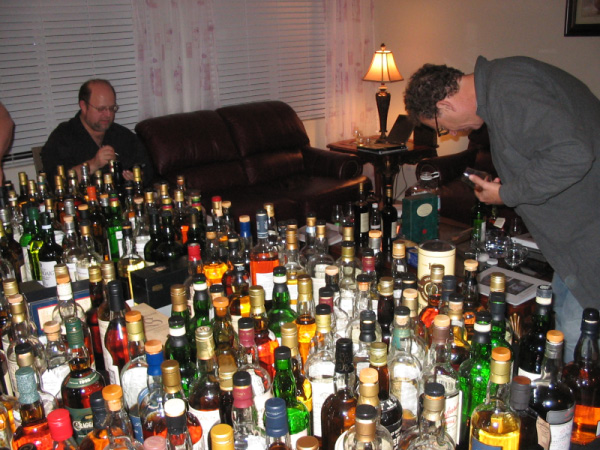 Please say a prayer for our evil livers...
So this year I just get to hyperdram with the Ringleaders without restraint and take ever disintegrating tasting notes that I'll later use to cobble together my version of "reality" at a later date - most likely in February... at least some February - entropy DOES rule here you know...
Here are the pre-A10 postings in the meantime - I'm sure some of this probably happened.
Lord of the Isles, Aye,
Your peat and smoke assail me
Ardbeggeddon Rocks!
Dramming Your Age!
Mouthvatting!
Malt Porn!





Oh Ardbegeddon!
January in Vegas.
I'll not dram my age.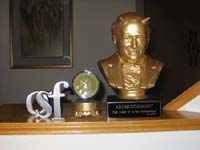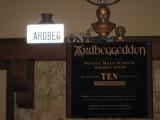 liverevil

Other Updates to Website Lately

Pussyfoot Johnson's Challenge - Julio's Wasmunds MiniCask Entry

My Last 10 Drams or So...
Here's a listing of the last 10 drams I poured for myself as best I can recall
listed in reverse chrono order.

Last updated on 2/22/09 at 10 pm EST. (Wow, does this need updating! I'm still dramming - one of the reasons no updates lately...)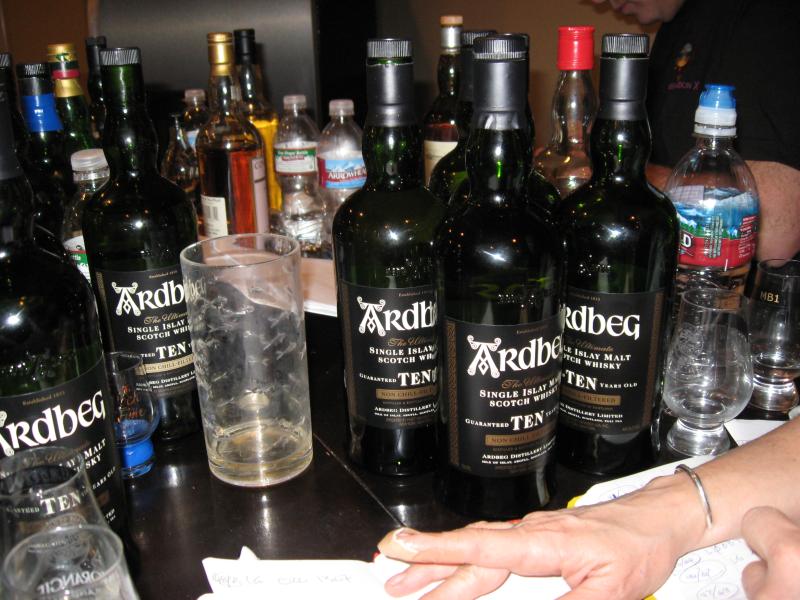 Ardbeg 10 Vertical
(see Ardbeg Bottle Code Decoder Ring Section for more info)
This first HtH is bottled about 2 years apart and both are US releases.

L7 143 09:06 4ML (bottled 5/23/07) Ardbeg 10 yo, 46%

Nose: Sweet peat almost candied, faint heather on the edges. Returning from the A5 there's substantively less peat on the nose - I think I'm getting more of the malt which is the sweetness I'm catching here.

Palate: more peat here than on the nose but not really overwhelming, just everywhere. Slightly sooty on the back palate and malty zestiness on the midpalate that lasts maybe 30 seconds.

Finish: Huge, chewy, shifting peat complexity. This is Ardbeg once the edges have been rounded off. Slightly astringent with a touch of citrus near the end. Major overlap between palate and finish here - they simply blend together.

Conclusions: I just love this A10 bottling and wish I had more. Excellent balance between younger peat and older deep complexity. Slightly sour edge on the back finish but kind of interesting since it strongly suggests another dram. Tonight I'm thinking there must be some younger malt here to account for the peat but mostly it's older Ardbeg. Wonderful. As always.
<![if !supportLineBreakNewLine]>
<![endif]>
L5 110 17:50 4VL (bottled 4/20/05) Ardbeg 10 yo, 46%

Nose: No sweetness here - this is more seaweedy peat and a real maritime background overall. More aggressive nose and seems higher proof than the L7 as well but both are 46%. Opening up and getting more forceful as it breathes. Dark sherry starting to show up strongly as well.

Palate: Dryer crispy heavier peat than the L7 and noticeably less complex - the palate shifts a bit but still remains relatively linear. Starts strong and blows right across your palate leaving piles of peat scattered in it's wake. Really tasty peat on a delicate sherry base. Refill sherry casks vatted in this one?.

Finish: Another monster and almost as long as the L7 - still more linear and a bit less complex. The maritime character falls off fairly quickly and all you're left with is tasty peaty sherried tinged happiness.

Conclusions: This dram presents more like the older classic 10 yo but with some added bonus from some older malts, but I think the age here is younger than the 2 bottling years between these two bottles. Don't get me wrong, I like this dram and would buy more - I just LOVE the L7 143...
<![if !supportLineBreakNewLine]>
<![endif]>
Ok, next we drop back a bit and HtH two A10s bottled almost 3.5 years apart:

L6 314 10:29 4ML (bottled 11/10/06) Ardbeg 10 yo, 46%

Nose: Indistinguishable between these two bottlings on pouring - have to be careful not to mix these glasses up! L3 seems a "little" more in your face but you have to look really hard. Ok, after 3 minutes or so the L6 is shifting dramatically and getting sweeter as the peat falls to the side - never noticed it dropping off this fast before but normally don't start paying attention as soon as I pour my dram either. Completely different from the L3 now and very delicate smoked fruits - peaches and cherries. That was a wild shift in only 5 minutes - this bottle's only been opened 1 month where the L3 has been open since last July 4 and is down to about 1/3, so it's fairly stable now.

Palate: Sweet peat again and perfectly balanced - this L6 is giving the L7 143 a run for it's money tonight. Beautiful dram that dances on your palate leaving waves of smoked honey, dark fermented fruits, and whisps of flowery accents. I'm stunned... this is awesome.

Finish: Perfect and similarly overlapping with the palate like the L7. Lots of complexity, lots of changes and lots of perfection. wow

Conclusions: I didn't like this one when we opened it up in mid-January but tonight it may well be the star. I'm going to have to dram this against the L7 to see if I'm losing my mind.
<![if !supportLineBreakNewLine]>
<![endif]>
L3 170 10:10 4ML (bottled 6/19/03) Ardbeg 10 yo, 46%

Nose: Mentholish peaty anaesthesia. There's something really spicy and hidden back there too, bacon fat, vicks, and a smoking fireplace (well, a peat stoked fire...) Ever been to Bowmore during the fall on a cold day when they're heating the houses with peat and peat smoke hangs over the town? That's what I'm talking about.

Palate: Dirty peat - almost neutral from a sweetness perspective. This dram is all peat all the time. And the type of peat I call dirty peat - no seaweed, no heather, no smoke - just peat and dirt. Which I like a lot. There's something sweet on the midpalate that tries desperately to come up from the depths but the dirty peat beats it back into the murky expanse every time. Excellent.

Finish: Dry finish with a little less dirt and some more complex sweeter malty flavors sneaking in from the edges. Peat falls off and finally allows that sweeter component to break through.

Conclusions: Fairly straight ahead young monster ardbeg.. the way I like 'em! Interesting since it has both the muscular structure of the younger bottlings with some evidence of older whiskys showing up late in the game on the finish. This is another good one that would work well for a snowshoeing expedition to the back 40 midwinter. You'd survive no matter what happened.
<![if !supportLineBreakNewLine]>
<![endif]>
Ok, to wrap up this Ardbegfest, I'm going to taste the new 10 yo distilled after the distillery was reopened by Glenmo in 1997.

This bottle code is all over New England and if you start searching for A10 bottle codes I think you'll find this code most everywhere. It will be interesting to see what bottle codes Ryan has on the shelf tomorrow. I've noticed lately when I open the boxes to check the codes there are often fingerprints on the bottle already... and so it goes! Sorry for smudging your Ardbegs Ryan!

L7 295 13:39 4 ML (bottled 10/22/07) Ardbeg 10 yo, 46%

Nose: Ahh, this is young in your face Ardbeg again. No messing around. Peat is more balanced than some of the other bottlings we tried tonight and seems to provide aspects of many of my favorite peat characterisics including smoke, dirt, seaweed and heather. Overlaid on a malty sweet base that has an edge of carmelly spiciness. Complex for such a young dram.

Palate: Wow - smoke predominates in the front with spicy astringency on the mid to back palate. Another huge dram where it's hard to tell where the palate ends and the finish begins. Again, more complex than I expected and I'm quite pleased.

Finish: Waves of smoke roll off the palate to provide a monster finish that just doesn't quit. Kind of leaves you with a sense of singed tasty malt at the end that makes you think you survived an extraordinary experience only due to dumb luck. Another Ardbeg where you're perfectly contented to sit there savoring the finish or having another. It's all good.

Conclusions: This is another bottle I wasn't too impressed with when I opened it back in early December but am blown away with today.

Let's try something else to baseline this dram - I pour a dram of the Renaisssance (Bottle Code L8 121 03:52 4ML - UK Release at 70 cl and 55.9%). Nose is amazingly similar even with the much higer proof. So we water it down to about 46%... and they're almost impossible to tell apart. The Ren has a slight bit more complexity on the nose but I wonder if this is psychological since I know which is which? Difference is that close. In a minute or 2 I'm getting a slightly spicier edge on the Ren now. Palates definitely share lots of similar characteristics although we're now getting citrus from the Ren where we're not on the A10 which is sticking close to it's peaty character. Although similar, the Ren is more complex and lighter than this A10 but you can clearly see that the malt characteristics are very similar. I just think they cherry picked casks for the Ren here and used the cast offs for the A10... I'm so grateful! The Ren pulls further away as it opens up and the Ardbeg strange attractor thing starts to kick in. I'm not worthy!

Bottom line - even though we're talking about finding older ardbegs using the bottle codes this new bottling is really good and stands up to these older A10 bottlings. The new Glenmo Ardbegs are worthy... Let's just hope they don't become ultra luxury items and are priced out of the reach of normal humans.
Dramming Archives

WELL ESTABLISHED SECTIONS

PLOWED-NNE Fuzzy Recollections

DrE's Virtual Hall of FOAFing Fame

The Ord-inances from the Book of OSFX

Online Dramming with PLOWED - a guide to acronyms and jargon

Online FOAFing Database of Liquor Stores (Community Project)
Inner Sanctum Tour

What You'll Find Here
This website is primarily dedicated to documenting the social aspects of today's thriving single malt scotch whisky culture. The internet plays a central role in creating/maintaining this dynamic culture and I've met some of the most amazing people through single malts. Kind of hard to explain...
My secondary goal is to document the developing mythology, terminology, and bizarre practices/techniques/rituals (lipping, mouth vatting, and so forth) that stem from single malt scotch whisky extremism. In my experience, PLOWED is the epitome of this very sane insanity and this site also documents the PLOWED experiences I either remembered or more likely, transcribed while totally immersed in the water of life. Enjoy! ...and don't forget your B-1 before going much further.








First successful distillation on 4/4/99