Here's the archives from the lists of my last drams from the home page. Really just a snapshot since these are only the last 10 from whenever I overcome inertia and do some updating to the digital HDI... seldom happens when I'm in a serious dramming mood and have company.
I think it will do a good job of framing how my favorites change over time though and maybe even encourage me to pour some sadly neglected bottles in the HDI.

"Drams" here means any hard liquor including gin, vodka, rye, bourbon and so forth. I'm an equal opportunity drammer!

Ok, to wrap up this Ardbegfest, I'm going to taste the new 10 yo distilled after the distillery was reopened by Glenmo in 1997.

This bottle code is all over New England and if you start searching for A10 bottle codes I think you'll find this code most everywhere. It will be interesting to see what bottle codes Ryan has on the shelf tomorrow. I've noticed lately when I open the boxes to check the codes there are often fingerprints on the bottle already... and so it goes! Sorry for smudging your Ardbegs Ryan!

L7 295 13:39 4 ML (bottled 10/22/07) Ardbeg 10 yo, 46%

Nose: Ahh, this is young in your face Ardbeg again. No messing around. Peat is more balanced than some of the other bottlings we tried tonight and seems to provide aspects of many of my favorite peat characterisics including smoke, dirt, seaweed and heather. Overlaid on a malty sweet base that has an edge of carmelly spiciness. Complex for such a young dram.

Palate: Wow - smoke predominates in the front with spicy astringency on the mid to back palate. Another huge dram where it's hard to tell where the palate ends and the finish begins. Again, more complex than I expected and I'm quite pleased.

Finish: Waves of smoke roll off the palate to provide a monster finish that just doesn't quit. Kind of leaves you with a sense of singed tasty malt at the end that makes you think you survived an extraordinary experience only due to dumb luck. Another Ardbeg where you're perfectly contented to sit there savoring the finish or having another. It's all good.

Conclusions: This is another bottle I wasn't too impressed with when I opened it back in early December but am blown away with today.

Let's try something else to baseline this dram - I pour a dram of the Renaisssance (Bottle Code L8 121 03:52 4ML - UK Release at 70 cl and 55.9%). Nose is amazingly similar even with the much higer proof. So we water it down to about 46%... and they're almost impossible to tell apart. The Ren has a slight bit more complexity on the nose but I wonder if this is psychological since I know which is which? Difference is that close. In a minute or 2 I'm getting a slightly spicier edge on the Ren now. Palates definitely share lots of similar characteristics although we're now getting citrus from the Ren where we're not on the A10 which is sticking close to it's peaty character. Although similar, the Ren is more complex and lighter than this A10 but you can clearly see that the malt characteristics are very similar. I just think they cherry picked casks for the Ren here and used the cast offs for the A10... I'm so grateful! The Ren pulls further away as it opens up and the Ardbeg strange attractor thing starts to kick in. I'm not worthy!

Bottom line - even though we're talking about finding older ardbegs using the bottle codes this new bottling is really good and stands up to these older A10 bottlings. The new Glenmo Ardbegs are worthy... Let's just hope they don't become ultra luxury items and are priced out of the reach of normal humans.
<![if !supportLineBreakNewLine]>
<![endif]>
L3 170 10:10 4ML (bottled 6/19/03)
Ardbeg 10 yo, 46%
Nose: Mentholish peaty anaesthesia. There's something really spicy and hidden back there too, bacon fat, vicks, and a smoking fireplace (well, a peat stoked fire...) Ever been to Bowmore during the fall on a cold day when they're heating the houses with peat and peat smoke hangs over the town? That's what I'm talking about.

Palate: Dirty peat - almost neutral from a sweetness perspective. This dram is all peat all the time. And the type of peat I call dirty peat - no seaweed, no heather, no smoke - just peat and dirt. Which I like a lot. There's something sweet on the midpalate that tries desparately to come up from the depths but the dirty peat beats it back into the murky expanse every time. Excellent.

Finish: Dry finish with a little less dirt and some more complex sweeter malty flavors sneaking in from the edges. Peat falls off and finally allows that sweeter component to break through.

Conclusions: Fairly straight ahead young monster ardbeg.. the way I like 'em! Interesting since it has both the muscular structure of the younger bottlings with some evidence of older whiskys showing up late in the game on the finish. This is another good one that would work well for a snowshoeing expedition to the back 40 midwinter. You'd survive no matter what happened.

<![if !supportLineBreakNewLine]>
<![endif]>
Ok, next we drop back a bit and HtH two A10s bottled almost 3.5 years apart:

L6 314 10:29 4ML (bottled 11/10/06) Ardbeg 10 yo, 46%

Nose: Indistinguishable between these two bottlings on pouring - have to be careful not to mix these glasses up! L3 seems a "little" more in your face but you have to look really hard. Ok, after 3 minutes or so the L6 is shifting dramatically and getting sweeter as the peat falls to the side - never noticed it dropping off this fast before but normally don't start paying attention as soon as I pour my dram either. Completely different from the L3 now and very delicate smoked fruits - peaches and cherries. That was a wild shift in only 5 minutes - this bottle's only been opened 1 month where the L3 has been open since last July 4 and is down to about 1/3, so it's fairly stable now.

Palate: Sweet peat again and perfectly balanced - this L6 is giving the L7 143 a run for it's money tonight. Beautiful dram that dances on your palate leaving waves of smoked honey, dark fermented fruits, and whisps of flowery accents. I'm stunned... this is awesome.

Finish: Perfect and similarly overlapping with the palate like the L7. Lots of complexity, lots of changes and lots of perfection.wow

Conclusions: I didn't like this one when we opened it up in mid-January but tonight it may well be the star. I'm going to have to dram this against the L7 to see if I'm losing my mind.

<![if !supportLineBreakNewLine]>
<![endif]>
L5 110 17:50 4VL (bottled 4/20/05) Ardbeg 10 yo, 46%

Nose: No sweetness here - this is more seaweedy peat and a real maritime background overall. More aggressive nose and seems higher proof than the L7 as well but both are 46%. Opening up and getting more forceful as it breathes. Dark sherry starting to show up strongly as well.

Palate: Dryer crispy heavier peat than the L7 and noticeably less complex - the palate shifts a bit but still remains relatively linear. Starts strong and blows right across your palate leaving piles of peat scattered in it's wake. Really tasty peat on a delicate sherry base. Refill sherry casks vatted in this one?.

Finish: Another monster and almost as long as the L7 - still more linear and a bit less complex. The maritime character falls off fairly quickly and all you're left with is tasty peaty sherried tinged happiness.

Conclusions: This dram presents more like the older classic 10 yo but with some added bonus from some older malts, but I think the age here is younger than the 2 bottling years between these two bottles. Don't get me wrong, I like this dram and would buy more - I just LOVE the L7 143...
<![if !supportLineBreakNewLine]>
<![endif]>
This first HtH is bottled about 2 years apart and both are US releases.

L7 143 09:06 4ML (bottled 5/23/07) Ardbeg 10 yo, 46%

Nose: Sweet peat almost candied, faint heather on the edges. Returning from the A5 there's substantively less peat on the nose - I think I'm getting more of the malt which is the sweetness I'm catching here.

Palate: more peat here than on the nose but not really overwhelming, just everywhere. Slightly sooty on the back palate and malty zestiness on the midpalate that lasts maybe 30 seconds.

Finish: Huge, chewy, shifting peat complexity. This is Ardbeg once the edges have been rounded off. Slightly astringent with a touch of citrus near the end. Major overlap between palate and finish here - they simply blend together.

Conclusions: I just love this A10 bottling and wish I had more. Excellent balance between younger peat and older deep complexity. Slightly sour edge on the back finish but kind of interesting since it strongly suggests another dram. Tonight I'm thinking there must be some younger malt here to account for the peat but mostly it's older Ardbeg. Wonderful. As always.
<![if !supportLineBreakNewLine]>
<![endif]>
January 20, 2009 Update
Here's my post A10 dramming log tracking which are all the new bottles from the Holistic Dramming Institute's bunkers that we opened at A10:
Ardbeg 11 yo, 1993-May 2005, Bourbon Hogshead, 57.4%, 70 cl, Cadenhead's Authentic Collection. This bottle was purchased at the Cadenhead's shop on the Royal Mile at the end of the 2005 PLOWED Pildrammage to Scotland. The shopkeeper told us we got their last 2 bottles. First time I've tried this dram too - hardly got touched at A10 and we brought back 4/5 of a bottle. You know the s'tample drill - this is the only bottle of this release we'll ever own. Huge young Ardbeg with a monster peaty nose. This is a bourbon casked beauty that's a bit more linear than typical sherry casked Ardbegs. Dryer, crisper peat here that smacks your palate around and lingers with a very long finish, but less complex than the other Ardbegs we opened for A10. Reminds me a lot of the Ellenstown 10 yo bottling with that dryer charcoal like peat character. With water it opens nicely and gets a bit sweeter, but this is still a muscular straight ahead bourbon casked Ardbeg monster. Huge finish both with and without water that ends up in dirt and charcoal after a few minutes. Ummmmm.
Ardbeg, 21 yo, Committee Dram 2002, 56.3%, 70 cl, OB - Another beauty we bought at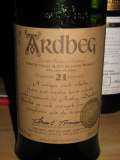 the distillery during Feis Ile in 2002. This was my last bottle, I think Sister Haggis may have one left in the HDI. More good news - this one came back 2/3 full so once again - we'll pull a 240 ml s'tample off this soon. Light, sweetish / spicy peaty nose that's quite complex... gets dirty as it opens up. Palate is peatier than I expected it to be for a 21 yo. Alcohol is high tho so we toss in a touch of water. ..sweet gingery peat now. Add more water down to about 50% it smooths out nicely and the nose/palate goes spicy peat. huge finish with a distinct slow fade of peat. nice. haven't had one of these open since 2003.
The Brorageddon, 30 yo, 3/72-2/03, 50.8%, 75 cl, Douglas Laing, PLOWED Bottling -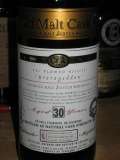 ahh, one of my favorite PLOWED Bottlings, one of the best Broras I've ever tasted and best of all -we brought 1/2 bottle home from A10! Haven't had a bottle of this awesome dram open since our last 4th of July bash when we killed off all the remaining s'tamples. Another dram to pour a 240 ml s'tample off sooner than later. Only have 3 of these left in the bunker and this is my kind of sherry. Deep, spicy, rich, complex sherry marbled with classic dry heathery peat. a finish that climbs through your entire body and ends up in your nostrils with a subtle mentholish edge. I love this dram and I'll cry when I don't have any left.
Bruichladdich Peat, NAS, 46%, 70 cl, OB - a multivintage Bruichladdich vatting of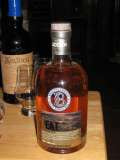 ______________________ (I forget and have to find the details - not on the packaging and I pulled it off the web) This dram is reportedly a classic heavily peated 'Laddich that's been matured in x-bourbon casks. Let's see... didn't try this at A10.
Huge peaty nose with Octomore like peat predominant. Also a sweet ardbeggy background smoke that underlays everything. Palate is less peaty which is surprising. There's certainly lots of peat there but it seems balanced and totally in proportion. Bourbon cask maturing gives this dram a perfect balance and it has a very dry peat finish that has hints of seaweed and heather. First impressions very good - need to spend some more time with this dram.
Moidart 21 yo, 46% 70 cl, Cadenhead's - 2002 PLOWED Scotland Pildrammage FOAF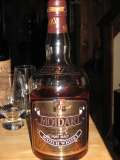 - found piles of these beauties in both the Edinburgh and Campbeltown Cadenhead's shops. These are older vatted malts bottled at 21, 25 and 30 years old that are primarily ancient springbank, you know - that pre-closure classic coconutty Springer that make your palate sing and bring tears to your eyes dancing on top of a subtle base of islay peatiness. This 21 yo bottling is astonishing and much better than I remembered. Has a slighty sour off finish note that I attribute to the Islay component but it's still all good. This is my last bottle and it emerged from A10 >3/4 full. Pulling a 240 ml s'tample off this one for our next bottle ASAP.
Highland Park 30 yo, 43%, 70 cl, The MacPhail's Collection (G&M) - this was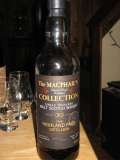 one of our Scotland 2005 FOAFs that many of us brought back home that trip. We discovered this dram in the Pot Still on our first day in Glasgow which was the site of Slur Dave's super, over the top dramming session the day we arrived that lasted from when the bar opened at 3 pm and ended around 1 am when they cheerfully stopped serving him. We really need to write up this but I digress - we killed the open bottle (barely touched when we started) over 3 days at the Potstill and immediately started searching for more in our travels across Scotland.

This is an amazingly complex and moreish Highland Park that drams more like a cask strength bottling than a 43% release. Sweet/spicy candy nose with only a touch of peat, huge malty palate that's sweet but not cloying with a finish that doesn't quit. I'm not a big sherried whisky fan but his sherry monster is simply perfect. I'm still dramming the end of this glass at 10:30 on Sunday morning while writing this up and it's even better after being opened all night. I wish I had more... Need to rack off a 120 ml s'tample today to serve as our "next bottle".
1/11/09 UPDATE
Gin Tasting with Sister Haggis
We sat down today to taste through a pile of new gins we've acquired for the Gin/Genever Reference Library in the HDI. Here are our initial tasting notes - all these bottles were opened today so none have had time to breath much yet.
Genevieve Genever Style Gin, Essay 0-SSG-GM-1, 47.3%, Anchor Distilling, San Francisco Nose: New make / clearic – that distinctive edge that disappears when aged in wood. Lark vomit. [Now, DrE, I don't want to know HOW you know what Lark Vomit smells like…]
Palate: Better than the nose, not as much of a young character. Citrus, a bit sour on the back of the palate. Drams hotter than 47%.
Finish: Slightly bitter and very long – touch of brinish salt on finish as well. Pleasant really – interesting dram overall
Conclusions: Need more research but ok for a non aged spirit. Wouldn't want to drink too much in one sitting though.
Junipero Gin, Essay 7-DDG-GNS-1, 49.5% , Anchor Distilling, San Francisco
Nose: Much smoother than the Genevieve. Well balanced and no new make characteristics. Spicy deep nose with lots of juniper.
Palate: Nicely balanced with less juniper on the palate than on the nose. Botanicals very subtle with none of the single spices dominating. Very linear progression from palate to finish – this gin is pretty centered.
Finish: Huge finish that's again fairly linear and quite pleasant. Slightly bitter and very long – touch of brinish salt on finish as well. Pleasant really – interesting dram overall.
Conclusions: This is a top shelf gin that we keep going back to. Mixes well and drams spectacularly by itself. Need to research how old this is since it has the structure of being aged in wood for some length of time – 3 – 5 years is my guess?
Spruce Gin, 45%, Rogue Spirits. Newport OR
Nose: Subtle Pine nose predominates. Lemony Citrus behind that.
Palate: Very subtle minty, mentholish feeling on the palate without the mint/menthol taste. Lightly spicy that changes quite a bit on the palate. No botanicals like most gins – this one is pure fir forest.
Finish: Mentholish and slightly spruce-like. Very clean and huge – makes you want to take another sip after a short bit. After about 3 minutes the finish goes cold metal.
Conclusions: I expected to hate this one and actually like it quite a bit. Interesting to see a gin with apparently only a small amount of the traditional botanicals. Need to mix this one to continue testing, testing, testing…
Pink Spruce Gin, 45%, Rogue Spirits. Newport OR
Nose: Stronger than Spruce Gin and red winey component clearly present. Nose is not integrated well and the pine / wine combination seem to be kicking each other's butt and generally trashing the joint.
Palate: Wow, even more disharmony here and the Pine / Wine elements are rolling around in a death struggle on the floor now. Very peculiar palate that changes tremendously over a minute or so. Too bad I don't like any of the places it goes. Sour phase that goes citrus in the middle is particularly bothersome.
Finish: Sour and mildly unpleasant. Lingering fragments of the pinot grapes and some weird transformation of the spruce gin tasted above. No interest in revisiting this glass after learning that it's all weird, all the time.
Conclusions: My understanding is that this is the spruce gin listed above that we liked so much that was seasoned in pinot barrels. No mention of how long or how much pinot was left in the barrel. Color is a clear pinkish orange and fairly dark. The pinot barrel seasoning completely ruined this gin for me. Just opened it today so I'll test mixing with it and see how it opens up with time.
Eau De Vie of Douglas Fir, 47.73%, Clear Creek Distillery, Portland, OR
Color: Had to write this up for the Douglas Fir Dram – color is a slightly opaque greenish color with white floaters that are density neutral (they suspend where they end up and don't sink). Scary stuff…
Nose: Oh My God – this is a fresh Christmas tree in a glass. After a minutes it's starting to smell like cutting live pines with a chainsaw and tossing them on a very hot fire. This pine blows away the strongest retsinas I've ever encountered as well. I keep looking at my hands expecting to see pitch when I put the glass down.
Palate: I'm afraid… well, here goes – not unexpectedly lots of resin heavy pine that goes up into your nose as well. Serious menthol here and it's both tactile and olfactory. Eau de Vie comes out on the back palate and exhibits signs of very young distillate. That new make finish here. [I found it a little sweet and flowery.]
Finish: Huge menthol that falls off pretty quickly and leaves you with that pine taste in the back of your throat. Pretty linear – too bad it's not better. Overall impression is astringent numbness. [Ditto the astringent numbness. Odd flowery sweetness continues.
Conclusions: One off dram that's a curiosity but noting I'd be interested in dramming or mixing with (I don't think so but probably should toss some into some tonic to see what happens.) I think this will be our only bottle.
Whitley Neill, London Dry Gin, 42%
Nose: Classic London Dry Gin Nose. Juniper and lime on top of a subtle botanical base.
Palate: Perfectly balanced but lemon here instead of lime like on the nose. Again, perfect spicy, warm, almost chewy complexity. No flaws that I can detect.
Finish: Fairly subtle but long and intriguing. Hints of pepper come and go on the edges. Disappears into nothingness in about 3-4 minutes. Awesome.
Conclusion: Nice and one to keep in stock. I'll bet this mixes awesomely as well.
Leopolds, Small Batch Gin, Batch 07-07, 40%, Ann Arbor, MI
Nose: Very dry nose with pine predominant and juniper in the background. Not much else from botanicals that I can detect. No trace of clearic in the nose here.
Palate: Sweet on entry and then lemon astringency. Starts a bit off and then goes odd.
Finish: Very long finish with pine again on the far back palate that lingers, but turns a bit sour. Never ends but I wish it were better.
Conclusion: First impressions not so impressed, but not turned off enough not to try again. Bottled opened tonight so maybe needs to open up for a bit. Botanicals really subdued and pine predominant, but nothing like the Rogue or Cedar Creek bottlings tasted earlier.
Drams from Saturday night 1/10/09
Ardbeg Renaissance, 10 yo, 55.9%, OB - Has a hard time holding up to the 33.71, drammed these in the wrong order... grrrrrr
Ardbeg 10 yo, 5/98-8/08, 55.8%, Bottling 33.71, SMWS. AWESOME - this dram keeps getting better as it opens up. Very happy. Had 3 of these in a row to give the bottle some "headspace".
Ardbeg Blasda, NAS, 40%, OB - Chillfiltered and "underproof" - I like this dram early in the session before you have any cask strength drams.
1/4/09 UPDATE
Dramming with Ryan - This was a GREAT session...
Laphroaig, 18 yo, 3/88-10/06,61.9%, Cask Ref 2281,OMC - PLOWED bottling
Laphroaig 11 yo, 10/95-8/08, 58.2%. Bottling 29.71, SMWS
Laphroaig 30 yo 43%,OB - Wow! I forgot how amazingly perfect this dram is!
Springbank 10 yo, Vintage 1997, 2nd Release, 54.9%, OB
St Magadeline (Linlithgow), 1975-1999, 56.3%, Scott's Selection
Highland Park 21 yo, 47.5%, OB - duty free only.and a must buy when passing through Heathrow. This HP is absolutely perfect. *****
Longmorn 16 yo, 48%, OB - disappointed and have written myself a note to try to get ahold of some of the old 15 yo this bottling replaced. Beautiful packaging though!
Ardbeg Corryvreckan, NAS, 57.1%, OB Totally blew away the Renaissance but the SMWS 33.71 held up better. The 'vreckan rocks and I'm kicking myself for not getting any...
Ardbeg 10 yo, 5/98-8/08, 55.8%, Bottling 33.71, SMWS. This is another great Ardbeg that's all huge creosote, tarry monster - a prime evil malt complex in your glass. I'm in love again!
Ardbeg Renaissance, 10 yo, 55.9%, OB I thought I had died and gone to heaven until I tasted the Corryvreckan and the SMWS 33.71. Now I have bottle envy!
Octomore, 5 yo, 46%, 10/16/02-4/08, Buffalo Trace X-Bourbon Cask, OB Futures - first bottling. Not as peaty as I expected but tasty and well balanced for such a young malt. More peat with a couple of drops of water on both the nose and palate Good but not what I had expected. Did a HTH against a 4 month old sample of Octomore from Whiskies of the World 2003 tasting panel run by Jim McEwan and it was a lot peatier and in your face. Interesting!
1/1/09 UPDATE and FIRST POSTING
Ardbeg Airigh Nam Beist, 18 yo, 1990, 46% - UK L8 253 **** (just opened tho)
Ardbeg Airigh Nam Beist, 16 yo, 1990, 46% - US L6 256 ***** (opened ~4 weeks)
Springbank 15 yo, 46% - Black label, UK 2005 ****
Springbank 15 yo, 46% - Tan Label, UK 2002 ***
12/30/08
Ardbeg Airigh Nam Beist, 16 yo, 1990, 46% - US L6 256
Ardbeg Renaissance, 10 yo, 1998, 55.9%, OB - currently, my favorite dram open in the HDI - Ardbeg is BACK!
Ardbeg Blasda, NAS, 40%, OB - Chillfiltered and "underproof"
Ardmore Traditional Cask, 46%, OB
William Larue Weller, 11 yo, 62.65%, Buffalo Trace Antique Collection - Fall 2008 release. My current favorite from the 2008 releases so far.
Four Roses 40th Rutledge Commemorative, Barrel 17-1C, Warehouse 55, 51.4%

Last update on 09/11/2009