Dr Entropy's Single Malt Scotch Whisky Dilution-Ratio Calculation Engine
---

I "rediscovered" this Excel spreadsheet while organizing my laptop harddrive this weekend. I created it in 1999 for a tasting where we were interested in tracking and controlling the dilution of cask-strength whisky we were enjoying that day and am pleased to offer it to the malt fanatics of the world for their use as well.
As noted in the header of the spreadsheet, this is freeware that you are encouraged to use and forward as you feel appropriate. If you find it interesting and useful, email me at DrE (at) SMWhisky.com and I'll send you an address to mail me a selection of tasty cask strength malts for compensation to sooth your troubled conscience... Here's a screen shot of the graphic created by this program: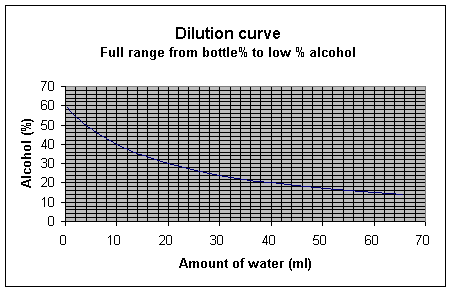 Enjoy! ...and long live non-chill filtered, uncolored, cask strength single malt scotch whisky!
Download the Dilution Calculation Engine (Rev 2.2) here.
Slainte!
---
Last Updated on 3/20/02