ARDBEGGEDDON X (aka A10)
THE ANNUAL CLAN GATHERING OF THE PLOWED SOCIETY
January 15 - 21, 2008
Las Vegas, NV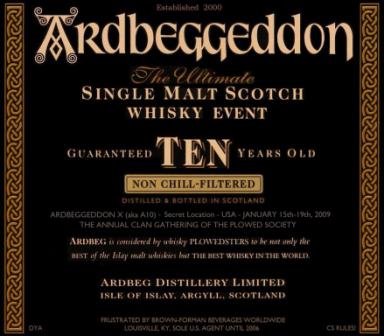 The Doorman has advised the Ringleaders this year that due to suspicious activity on "The Internets", that the location of Ardbeggeddon will only be revealed to participating Ringleaders ahead of time starting in 2009. I personally think the Doorman is getting lazy and is more interested in dramming than managing crowd control - and I can't argue with that! We ended up back at the Villa we held A9 at. Awesome dramming space and very Ringleader friendly. Bedrooms could be better but most don't notice due to excessive liver spanking.
Photos of our bags being packed before heading to Las Vegas.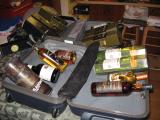 Proud to be PLOWED!

Current Bottle Count for A10
Here's the summary of our favorite distilleries and how many bottles from
each have been pre-declared:
PLOWED Bottlings: Bottles of all five PLOWED releases will be on the table for this milestone tasting, as follows

Springbank, 32 yo, 1967, 45.8% - Murray McDavid

Ardbeg, The Ardbeggeddon - 29 yo, 1972, 48.4% - Douglas Laing

Brora, The Brorageddon - 30 yo, 1972, 50.8% - Douglas Laing

Port Ellen, 22 yo, 1982, 61.1% - Douglas Laing

Laphroaig, 18 yo, 1988, 61.9% - Douglas Laing

Ardbeg - 68 bottlings [ ...can you BELIEVE this! ]

Bowmore - 14 bottlings

Brora - 10 bottlings

Bruichladdich - 13 bottlings

Highland Park - 10 bottlings

Laphroaig - 5 bottlings

Port Ellen - 7 bottlings

Springbank - 19 bottlings (count includes Moidart, Longrow, and any other off label springbank bottlings)
I'm guessing that with undeclared bottles and unlisted samples I think we had well over 350 malts on site this year. So many that I think we ONLY killed maybe 7 - 8 bottles which is a pretty small number for the Ringleaders and demonstrates the amazing quality of malts we had to select from.
Bottles killed included (need to dig out my notebook to get these specs and I'm only transcribing from my feeble memory now...)
Since this is Ardbeggeddon we obviously needed LOTS of Ardbegs!
We ended up with 68 different Ardbeg Bottlings!
Proud to be PLOWED
All but one of the Ringleaders had the opportunity to conduct the sacred rite of DYA with all Ardbegs this year and we were only a couple short there!
I'm still REALLY old.
Life is good.
Future link to A10 Malt List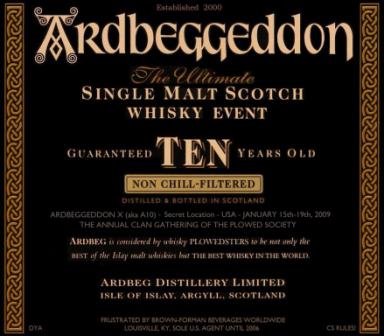 Sister Haggis' Secret Tasting Notes - new feature!
Here's some initial material for A10 channeled by your virtual hosts - Doctor Entropy and Sister Haggis
slainte!

last updated 02/05/2009