The First Official PLOWED-NNE Tasting
October 2, 2002 - at the ultimate Maine dramming location
---
This tasting came together really quickly and was not actually "announced" on the PLOWED-NNE board because there simply wasn't time. Our hosts were Mike and Sheila, PLOWEDsters who have recently moved from Berkeley, CA to Moab, UT and then back to Maine north of Bath on the coast. These folks grew up in Portland and Boston so of course they've been irresistibly pulled back since "abandoning" Maine. They have found a little piece of heaven on the coast - absolutely the way life should be. They "claim" they'll be returning to Moab for the winter any time now but the date keeps shifting out and they're getting less certain about when it will happen. My money bets they'll end up spending the entire winter here and perhaps "visit" Moab once or twice instead. This is the view out their front window - would you go back to Utah and abandon this? Welcome home kids! Great to have you back !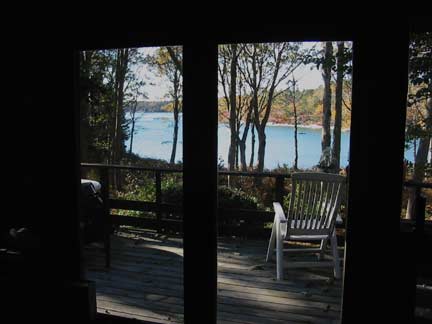 ---
We organized this tasting after Loco Barley informed us that he had decided against hosting a Halloween tasting this year. We quickly organized this after our hosts graciously offered this little piece of heaven for the venue and since you only need a quorum of 3 to host a PLOWED tasting, we were well over the limit with the following in attendance:
Mike and Sheila, Loco Barley, Sister Haggis and Doctor Entropy, and neighbors Buddy and Ed. No particular theme for this tasting but we focused on Broras and hauled a pile of them in to celebrate the next PLOWED bottling that is currently being arranged. We found 5 stellar examples of Brora in our collections and we are really excited about this bottling now. No time to write this up yet but I'll write up this tasting sometime this week when I find time.
Here are Mike's tasting notes from this event.
Here's another photo of paradise from the shore in front of their house and a shot of the Broras we tasted to hold you until I get this written up.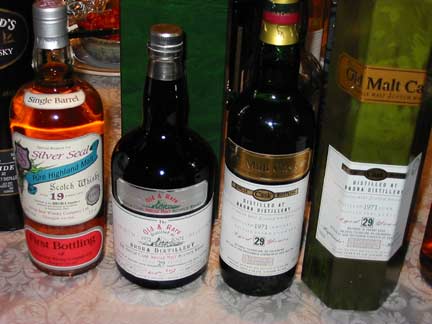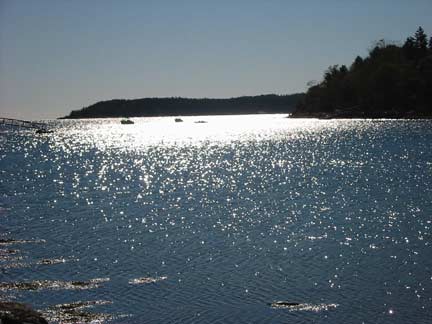 PROUD TO BE PLOWED!
---
Last update on 11/4/02